March 1, 2021
St. Petersburg, Florida (Tropicana Field)
Commentary: Tom Phillips, Byron Saxton, and Samoa Joe
Results by: Mike Tedesco of Wrestleview.com
---
Quick Match Results
Drew McIntyre defeated Sheamus via Claymore
Nia Jax defeated Naomi via chokeslam powerbomb
Raw Tag Team Championship: The Hurt Business (Shelton Benjamin & Cedric Alexander) (c) defeated Braun Strowman & Adam Pearce via inside cradle by Benjamin on Pearce
Damian Priest defeated Elias via Hit the Lights
WWE Championship: Bobby Lashley defeated The Miz (c) by count out when Miz immediately ran out of the ring to the back
Charlotte Flair defeated Shayna Baszler via Natural Selection
6-Man Tag Team Match: Riddle & Lucha House Party defeated RETRIBUTION (T-Bar, Mace & Slapjack) via splash by Metalik on Slapjack
Mustafa Ali defeated Riddle via double knee driver after distraction by RETRIBUTION
WWE Championship Lumberjack Match: Bobby Lashley defeated The Miz (c) via the Hurt Lock to become the NEW WWE Champion
---
In-Ring: Drew McIntyre, The Miz, John Morrison, MVP, Sheamus
We go live into the WWE ThunderDome, and former WWE Champion Drew McIntyre makes his way to the ring. McIntyre says it's been a bitch of a month for him. His former best friend, Sheamus, severed their 20 year friendship. McIntyre doesn't understand why, but they're going to war next. Two weeks ago at Elimination Chamber, he went in as the WWE Champion and beat five former champions. What happened next was Bobby Lashley attacking him again and again and again. Then the resident cockroach, The Miz, successfully cashed in his Money in the Bank contract. The freakin' Miz is the WWE Champion. The virtual crowd boos.
McIntyre has a clear image in his head: regain the WWE Championship and main event WrestleMania. McIntyre didn't win the title in the Performance Center, march into the ThunderDome, and make it the #1 championship in wrestling again to get screwed at the finish line. Whoever is successful tonight in the WWE Championship match has a huge target on their back. As for Sheamus…
WWE Champion The Miz makes his way to the ring with John Morrison by his side. The Miz makes ring announcer Mike Rome announce him again and tons of pyrotechnics go off. The Miz says he couldn't help but overhear what McIntyre said. McIntyre has handled everything with dignity and class. Everything that happened to McIntyre was out of his control. Once Miz, the greatest superstar of his generation, got the Money in the Bank contract, it was only a matter of time before he cashed it in and became the WWE Champion. McIntyre sarcastically tells him to get into the ring and give him a big hug. Miz asks why McIntyre would be upset with him. Miz only did exactly what he was supposed to do. If McIntyre wants to be mad, he needs to point his animosity at Bobby Lashley. McIntyre says Miz is a master manipulator, but he's not doing his dirty work tonight. Miz will have to deal with Lashley by himself. If Miz is successful, then McIntyre is his problem.
Miz says he didn't even want help from Bobby Lashley. Miz is the victim of this situation. Miz is a husband and a father to two beautiful baby girls. Lashley threatened his very well-being. Miz had no choice but to make that deal. Because of that, Lashley has a title match. Why would someone like Bobby Lashley get the first opportunity at the WWE Championship and not someone that is more deserving like Drew McIntyre? Morrison says it's because of Bobby Lashley. Miz wants to work together as the three amigos: Miz, Morrison, and McIntyre. They could do wonders for McIntyre's career.
The Hurt Business' music hits, and MVP walks out to the stage using a cane. MVP hopes McIntyre isn't taking them seriously. McIntyre says when he rejected MVP's services last year, he doesn't want or need anyone's help to win the championship. MVP says nothing will change the fact that Bobby Lashley will step into the ring with The Miz and become WWE Champion. Oh – he almost forgot – Miz' match with Bobby Lashley for the WWE Championship will begin promptly at 9 p.m. Eastern. In less than an hour, Bobby Lashley will destroy The Miz. Miz looks disgusted.
Sheamus' music hits, and he walks out to the stage. Sheamus says McIntyre doesn't give a damn about anyone. When he's done with him, McIntyre will be in no shape to help anyone. McIntyre says the time for talking is over and goes outside the ring. McIntyre and Sheamus brawl at ringside. Referees run down to try and separate them. McIntyre clotheslines Sheamus over the barricade and poses on the turnbuckles in the ring. Sheamus angrily comes over the barricade and stares at him. They'll wrestle, next.
---
Drew McIntyre vs. Sheamus
The bell rings, and they immediately begin brawling, throwing heavy fists. Sheamus punches him to the corner and punches him down. The referee admonishes Sheamus, so McIntyre grabs Sheamus and punches him before chopping the chest. McIntyre sends him into the ropes and connects with a back elbow for a no count. The referee backs McIntyre up, so Sheamus kicks him. Sheamus connects with a stiff short-arm clothesline before going to the second rope for a diving knee drop for a one count. Sheamus quickly hooks an arm bar. McIntyre fights up and hits a snap suplex before punching him in the face. McIntyre stomps the face and hooks a front facelock. McIntyre whips him hard to the opposite corner, and Sheamus collapses. Sheamus blocks a kick and takes him down before stomping the midsection a few times. Sheamus drops a NASTY knee to the head and applies another arm bar while ripping at the mouth. McIntyre fights out, so Sheamus slaps him. Sheamus hooks a side headlock, so McIntyre backs him into the ropes. The ropes are a little loose, so Sheamus slips through the top rope and gets his neck hung up. That was scary. McIntyre then applies the 10 Beats of the Bodhrán. Sheamus soon fights back and puts him on the apron. Sheamus kicks him and forearms him in the spine. McIntyre elbows him back. Sheamus quickly kicks him, hits the ropes, and Brogue Kicks him off the apron!
We come back from the break to see Sheamus viciously elbowing McIntyre in the chest. Sheamus digs his knee into McIntyre's face and applies an arm bar. McIntyre fights up, but Sheamus connects with an Irish Curse Backbreaker for a near fall. Sheamus rips at McIntyre's face and pulls back on his head. The referee forces a break and admonishes Sheamus. Sheamus chokes McIntyre on the ropes before kicking him in the ribs. Sheamus drops another VICIOUS knee on McIntyre. Sheamus kicks him to the apron and hits the 10 Beats of the Bodhrán. McIntyre crawls in the ring and slaps him in the face. They go back and forth slapping each other in the face. Sheamus kicks him and whips him hard into the corner, but McIntyre pops out with a pair of clotheslines. McIntyre sends him into the ropes and hits an overhead belly-to-belly suplex. McIntyre goes for another one, but Sheamus fights it. McIntyre then clotheslines him over the top rope. McIntyre gets on the apron, but Sheamus sweeps the feet. McIntyre quickly backs Sheamus into the ring post and hits an overhead belly-to-belly suplex onto the commentary table, but only half of Sheamus' body hits!
McIntyre rolls into the ring to break the count. McIntyre grabs Sheamus and hits a release suplex onto the commentary table. McIntyre puts Sheamus in the ring and goes to the top rope. McIntyre goes to the top rope and hits a big diving clothesline for a near fall. Sheamus quickly fights out of a Future Shock DDT and clotheslines him. Sheamus goes to the top rope, but McIntyre hits a Glasgow Kiss. McIntyre then hits a super overhead belly-to-belly suplex off the top rope for a near fall!
We come back from the break to see McIntyre and Sheamus punching each other from their knees before chopping each other. McIntyre gets out of White Noise and rolls him up for a two count. McIntyre hits a big spinebuster with a jackknife cover for a near fall. Sheamus comes back with a nasty knee to the face for a near fall. Sheamus connects with White Noise for another near fall. Sheamus is getting desperate. Sheamus goes for the Cloverleaf, but McIntyre counters into an inside cradle for a two count. McIntyre hits a Future Shock DDT for another near fall.
Each man slowly gets up. McIntyre sizes Sheamus up in the corner, but Sheamus rolls out of the ring. Sheamus quickly snaps McIntyre off the ropes and snaps the back of his neck off the ropes. Sheamus, who is completely exhausted, slowly climbs to the top rope. Sheamus clubs the back of McIntyre, but McIntyre fights back. McIntyre then hits Sheamus with White Noise off the second rope… but Sheamus kicks out! Wow!
McIntyre sets up for another Future Shock DDT, but Sheamus fights out. Sheamus counters a slingshot and kicks him in the chest. Sheamus hits an Alabama Slam for a near fall. McIntyre looks like he is out. Sheamus backs up and sizes McIntyre up. Sheamus goes for a Brogue, but McIntyre intercepts him with a Claymore Kick for the win!
Winner by Pinfall: Drew McIntyre
Sheamus angrily gets up and stares at his former best friend. They just went through a war. McIntyre stares back at his vanquished foe.
---
Naomi vs. Nia Jax
Jax almost immediately takes Naomi down with an avalanche before throwing her by the hair. Naomi tries to fight back, but Jax quickly takes her down and hits a bear hug. Naomi fights out, but Jax crushes her with a Samoan Drop. Jax talks trash to Lana before crushing Naomi with a chokeslam powerbomb for the win.
Winner by Pinfall: Nia Jax
---
Vignette: Rhea Ripley
Another "Rhea Ripley is coming soon to Raw" short video airs.
---
Segment: Bobby Lashley, The Miz, John Morrison
Bobby Lashley is looking INTENSE backstage. Lashley makes his way to the ring with MVP. The Miz' music hits, but the WWE Champion doesn't come out.
We go backstage to see The Miz doubled over in pain. John Morrison is with him. WWE Official Adam Pearce asks what is going on. Miz says he needs more time. He's cramping up and hurt. Bobby Lashley has seen enough and runs to the back. Lashley grabs Miz by the face and says he'll beat his ass for the WWE Championship. Lashley throws him down. Pearce says he doesn't care if he has to drag Miz out there, he will defend the WWE Championship at 10 p.m. Eastern.
---
In-Ring: Braun Strowman, Shane McMahon, Adam Pearce
Braun Strowman wants to talk about something blatantly obvious. Elimination Chamber sucked without him in it. Strowman was left out because of some stupid stipulation about the title. Shane McMahon and Adam Pearce are probably laughing at his expense with him not knowing his partner.
Shane McMahon's music hits, and he makes his way to the ring with WWE Official Adam Pearce. They get in the ring. McMahon tells him to chill out. Strowman needs to relax. He's messed up with anger. McMahon says he's helping himself by taking some MBA courses. One of the subjects he is taking is about conflict management. In reading through the texts, which are way above Strowman's reading level, the key to conflict resolution is communication. That's what Strowman's tag team match is all about. Strowman thinks Adam Pearce made this match, but McMahon did. It doesn't matter who Strowman's partner is, in order for Strowman to resolve his conflict with WWE management is to work with WWE management. Strowman is teaming with WWE management tonight. Strowman asks if McMahon is going to be his tag team partner. McMahon tells him to not be ridiculous… it's Adam Pearce. Pearce looks stunned. Strowman says that sucks.
McMahon tells him to not be myopic in his thinking. Tonight, they can team up and compete for the Raw Tag Team Titles. Strowman says that doesn't sound bad. Strowman promises if Pearce screws this up, he'll get these hands. Strowman then grabs Pearce by the jacket, and he looks terrified.
Raw Tag Team Championship
The Hurt Business (Shelton Benjamin & Cedric Alexander) (c) vs. Braun Strowman & Adam Pearce
The bell rings, and Strowman runs over Benjamin and Alexander with a shoulder block. Strowman clotheslines Benjamin out of the ring in front of Shane McMahon. Strowman then viciously throws Alexander out of the ring. Alexander takes a bad bump. Strowman gets outside and wipes out The Hurt Business with the Strowman Express. Strowman gets Alexander in the ring before whipping him hard into the corner. Strowman connects with a short-arm clothesline. Strowman stomps Alexander's spine and steps on his chest. Strowman easily gets him to his feet and throws him across the ring. Strowman throws him again and charges him in the corner. Alexander moves, and Strowman hits the ring post shoulder-first.
Benjamin tags in. Alexander dropkicks Strowman in the knee before Benjamin knees him in the face. Strowman quickly tries to fight them off. Benjamin fights back, but Strowman crushes him with a Running Powerslam. Shane McMahon gets on the apron and tells Strowman to tag Pearce in. Strowman isn't happy, but he begrudgingly tags Pearce in. Pearce looks surprised. Pearce gets in the ring, and Benjamin quickly rolls him up with an inside cradle for the win!
Winners by Pinfall and still Raw Tag Team Champions: The Hurt Business
Braun Strowman is infuriated. Strowman shouts at Shane McMahon that he's going to wreck this place. It will be on Shane's hands. Strowman walks off.
---
Backstage: Damian Priest, Bad Bunny, Elias, Jaxson Ryker
Damian Priest is backstage with WWE 24/7 Champion Bad Bunny when Elias and Jaxson Ryker walk up to him. Elias wants to collaborate with Bunny, but they decline.
Elias vs. Damian Priest
"Ladies and gentlemen… Elias." Elias is still not happy about being turned down by Bad Bunny. Elias goes to play, but Bad Bunny cuts him off.
They lock up and tussle to the corner. Elias wrenches the arm, but Priest twists his arm as well. Elias quickly gets to the ropes. Priest grabs the arm, but Elias soon fights back. Priest fights back and hits a spinning wheel kick. Priest knocks Elias out of the ring. Elias stares at Bad Bunny.
We come back from the break to see Elias taking it to Priest. Priest tries to fight back, but Elias keeps him grounded. Elias hits a big boot to the face in the corner. Ryker gets involved and attacks Priest when the referee isn't looking. Elias applies a chin lock, but Priest eventually fights up and powers out. Priest punches Elias back and blocks a punch with a forearm. Priest punches and clotheslines him down. Priest sets up in the corner and hits a running back elbow. Priest hits a Broken Arrow for a two count.
Ryker gets on the apron for a distraction, but the referee catches him. Elias and Priest fumble through a rough spot where Priest rolls him up for a two count. Elias soon hits a leaping knee strike for a near fall. Elias goes for Drift Away, but Priest fights it. Elias pushes him to the corner and gets him in the electric chair. Priest slides off and hits a bell clap. Priest kicks him in the face and connects with Hit the Lights for the win.
Winner by Pinfall: Damian Priest
---
Backstage: Randy Orton, Alexa Bliss
Randy Orton is being interviewed backstage. Orton is asked about what happened last week when he started throwing up a black liquid. Orton isn't sure, but he knows Alexa Bliss had something to do with it. Bliss appears on the screen sitting in the middle of a pentagram with a jack-in-the-box, which also has a pentagram. She laughs and whispers, "Bring it back." An evil Randy Orton appears on the screen and tells regular Orton that he will have to pay for all his sins. Regular Orton gets sick and runs off.
---
WWE Championship
The Miz (c) vs. Bobby Lashley
Mike Rome goes to make the ring announcements, but The Miz says he wants to talk business. Bobby Lashley has waited for 17 years to be WWE Champion. This isn't the stage for that right now. Lashley needs to do it at the grandest stage of them all. The challenger Bobby Lashley against the champion Miz in the main event of WrestleMania. They can have the WWE Universe yearning for this match. MVP says they're doing this match right now.
The ring announcements commence.
The bell rings, and the Miz immediately rolls out of the ring, grabs the WWE Championship, and runs to the back. The referee counts him out.
Winner by Count-Out: Bobby Lashley
The Miz retains the WWE Championship
MVP and Bobby Lashley are infuriated. They walk off, and MVP says it's not tonight.
---
Backstage: Bobby Lashley, MVP, Shane McMahon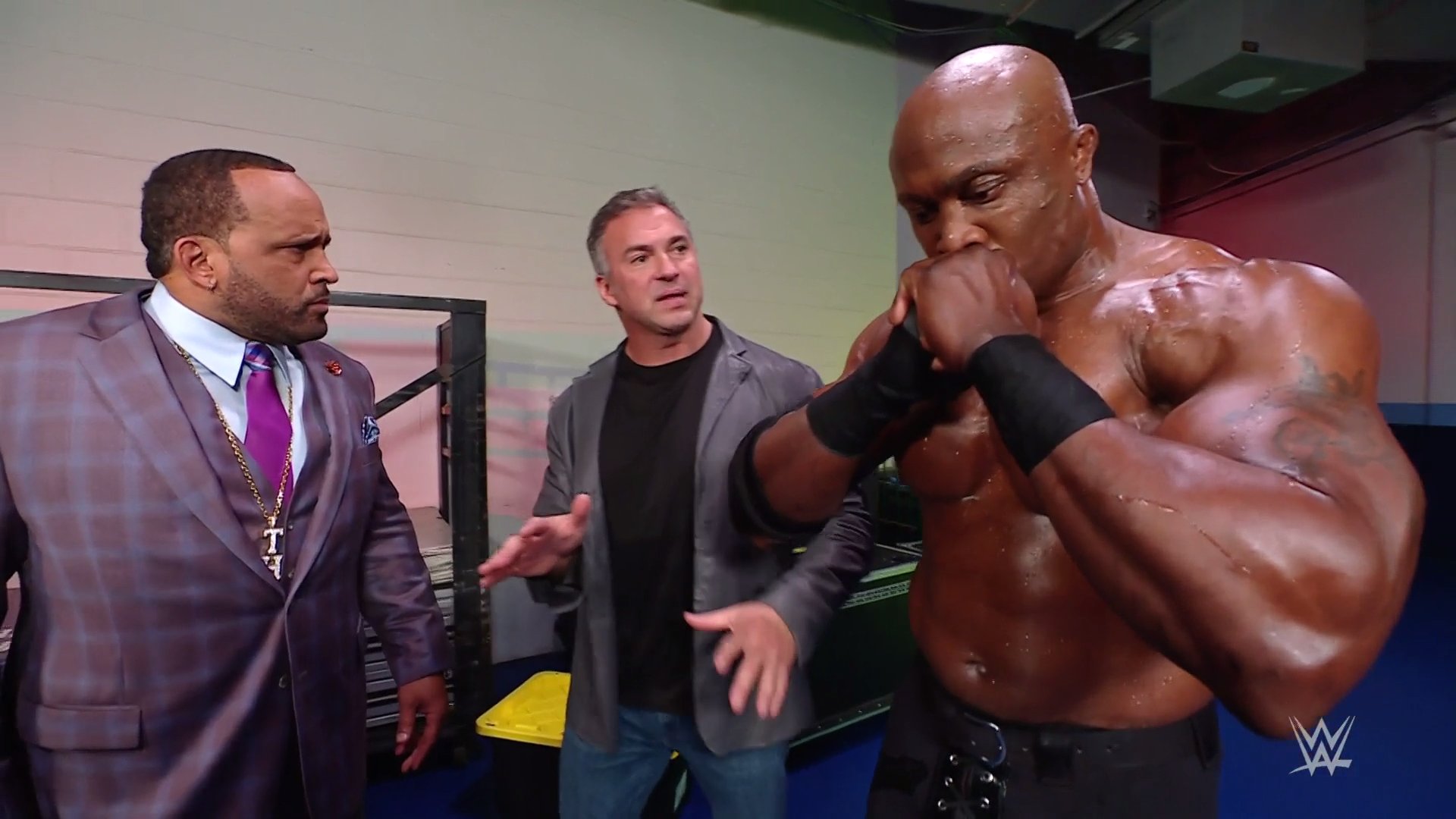 We come back from the break to see Bobby Lashley and MVP backstage with Shane McMahon. McMahon says that will not happen on his watch and there will be a WWE Championship match tonight. MVP says (and it was uncensored), "This is bullshit, Shane!" McMahon says he'll consider stripping Miz of the WWE Championship and giving it to Bobby Lashley. Lashley says he'd prefer it if they found Miz so he could beat the piss out of him. McMahon says he'll consider the stripping of the title.
---
In-Ring: Charlotte Flair, Nia Jax, Shayna Baszler
Charlotte Flair makes her way to the ring. She says this has been an emotional few weeks for her. Last week, she teamed with Asuka to try to win back the Women's Tag Team Titles, but it didn't happen. Bianca Belair decided she wants to face Sasha Banks for the SmackDown Women's Championship. We're six weeks away from WrestleMania and Flair wants to face Asuka for the Raw Women's Championship, but Asuka isn't here.
A video is shown of Shayna Baszler kicking Asuka in the mouth and her front tooth flying out last week on Raw. That was nasty.
Flair says Asuka is a fighting champion and will be back. WWE Women's Tag Team Champions Nia Jax and Shayna Baszler cut her off. Baszler says Flair might call herself The Queen, but she's fighting an uphill battle as an army of one. Baszler tells her to remain tag team partners with Asuka, but she's the reason why the Raw Women's Champion has no teeth. They're dominant. Flair could benefit from some help. Jax says it's a shame she sent her father home because the locker room wishes she sent herself home. No one likes Flair. Flair isn't getting an easy road to WrestleMania. Nia says either her or Shayna are going for the Raw Women's Title if Asuka can come back.
Flair says the locker room may want her gone, but she's still here as simply Charlotte Flair. Baszler gets in her face, so Flair attacks her. Jax attacks Flair and rips her robe off. Jax drops a leg on Flair. Flair is supposed to face Baszler, next.
Charlotte Flair vs. Shayna Baszler
We join this match in progress. Baszler is beating on Flair, but Flair soon mounts a comeback. Flair is knocked out of the ring, but she sidesteps Jax to send her into the ring steps. Flair takes Baszler down in the ring and hits Natural Selection for the win.
Winner by Pinfall: Charlotte Flair
---
Backstage: Shane McMahon, Adam Pearce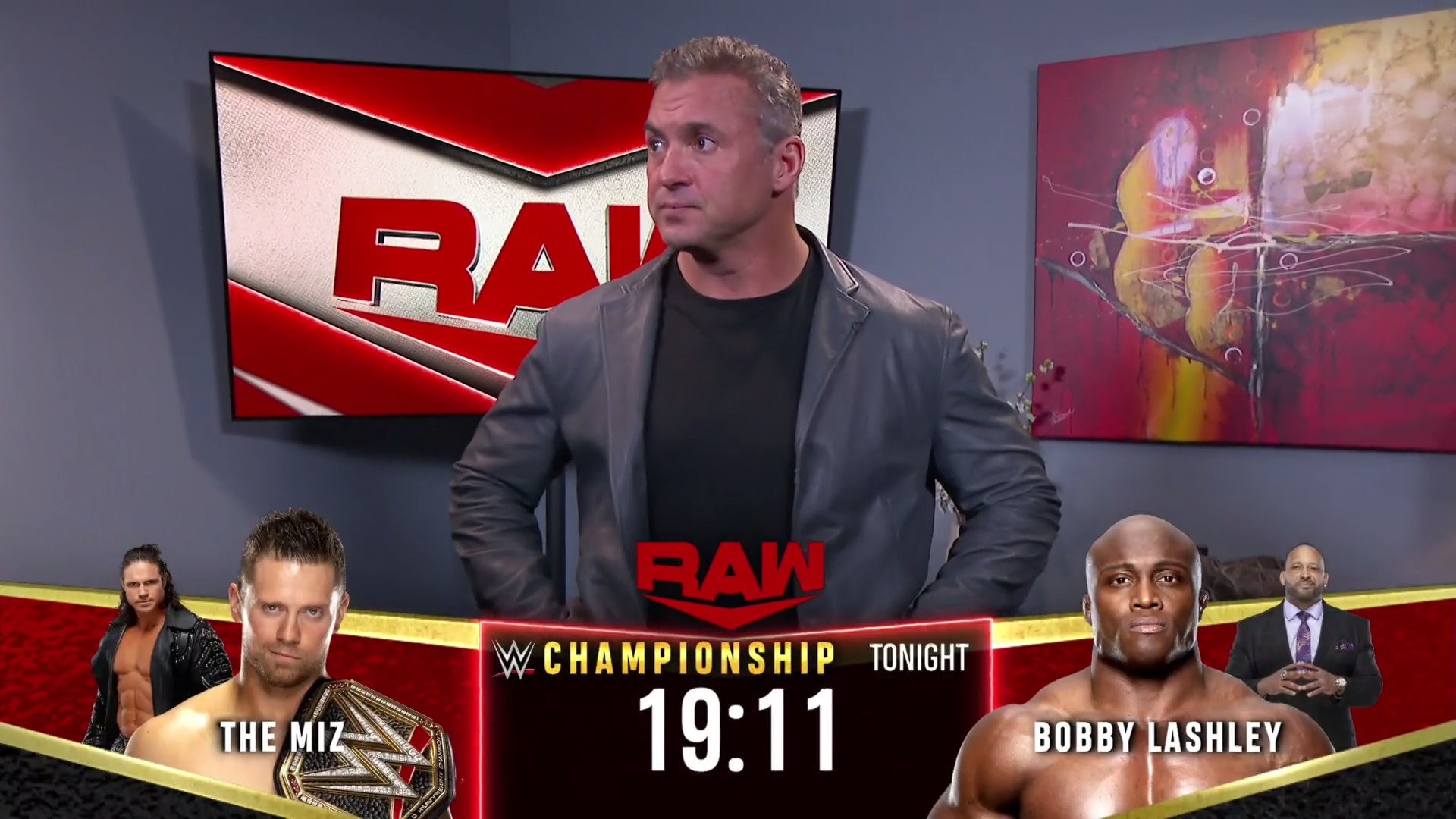 Shane McMahon is backstage with WWE Official Adam Pearce. McMahon is pacing before telling Peace to tell Bobby Lashley that if The Miz doesn't show up for the WWE Championship match, he'll be stripped of the title. The title will go to Lashley.
---
6-Man Tag Team Match
RETRIBUTION (T-Bar, Mace & Slapjack) vs. Riddle & Lucha House Party
Riddle starts against T-Bar… and T-Bar immediately kills Riddle with a chokeslam backbreaker for a near fall. Slapjack tags in and attacks Riddle. Mace tags in, and he hits a sidewalk slam for a near fall. T-Bar tags back in, but Riddle fights him off and gets Mace out of the ring. Riddle hits Mace with a plancha. Lince Dorado tags in and attacks Slapjack and T-Bar. Gran Metalik tags in and splashes Slapjack for the win.
Winners by Pinfall: Lucha House Party and WWE United States Champion Riddle
Mustafa Ali gets in the ring and berates the RETRIBUTION members. Ali then challenges Riddle.
Riddle vs. Mustafa Ali
Ali quickly takes it to Riddle and attacks the arm. Ali sends him sternum-first into the corner and hits a reverse neckbreaker for a two count. Ali goes for another one, but Riddle counters into a choke. Ali attacks the arm, but Riddle soon comes back with a Pelé Kick. Riddle attacks Ali and hits a belly-to-belly suplex. Riddle follows up with a Broton and a PK for a near fall. Slapjack gets on the apron to distract the referee. Reckoning then gets in the ring. Ali hits Riddle with a botched double knee driver off the second rope for the win.
Winner by Pinfall: Mustafa Ali
---
Backstage: The Miz, Shane McMahon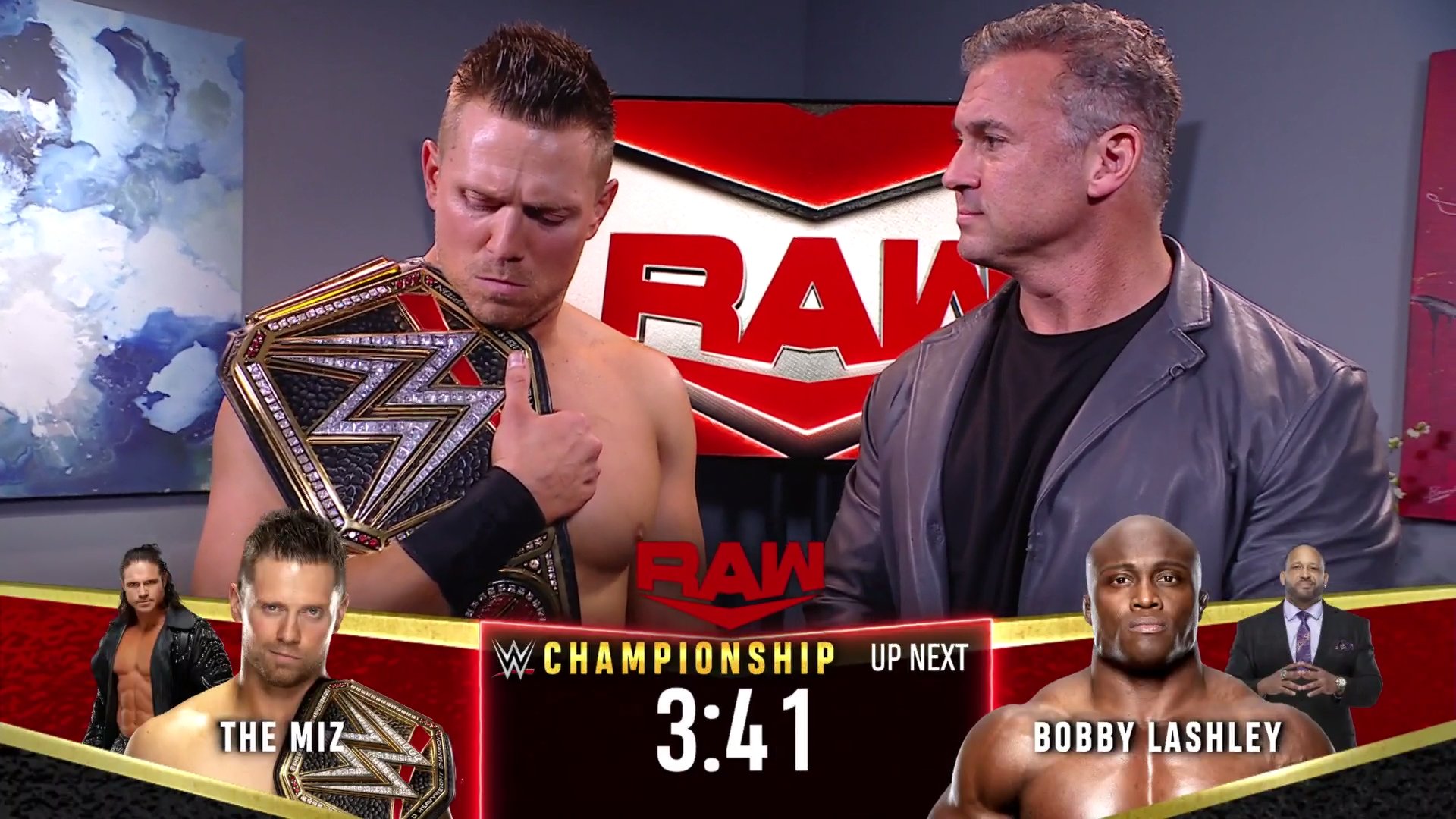 WWE Champion The Miz bursts into Shane McMahon's office. Miz says he's not happy about the stripping stipulation. Miz says he defended the title by any means necessary. McMahon isn't sure what stipulation it will be. Miz says he deserves to go to WrestleMania after all he's done for this company. What kind of champion will Bobby Lashley be? McMahon says we may be about to find out.
---
WWE Championship Lumberjack Match
The Miz (c) vs. Bobby Lashley
After the ring introductions, Shane McMahon walks out to the stage. McMahon thought of something to make sure the WWE Championship match is contested fairly, he's bringing out some lumberjacks. Most of the Raw roster makes their way to the ring, including Shelton Benjamin, Cedric Alexander, RETRIBUTION, and Braun Strowman.
The bell rings, and The Miz swings the WWE Championship at Lashley to get disqualified, but Lashley catches it. Miz goes to get out of the ring, but the lumberjacks prevent him. Miz tries to blindside Lashley, but it has no effect. Miz gets out of the ring and tries to bargain with Elias and Drew Gulak. Gulak throws Miz into the ring. Lashley clotheslines Miz and shoulders away at him in the corner. Lashley throws Miz across the ring. Miz rolls out of the ring and pulls himself up on Mustafa Ali. Benjamin and Alexander grab Miz and put him in the ring. Lashley viciously avalanches Miz down. Lashley connects with a flatliner before punching away at him. Lashley then press slams him out of the ring into the arms of T-Bar and Mace. They catch Miz and put him in the ring.
Lashley continues to attack The Miz and hits a one-armed spinebuster. Lashley applies the Hurt Lock, and Miz taps out!
Winner by Submission and new WWE Champion: Bobby Lashley
Bobby Lashley looks intense as he celebrates with the WWE Championship and points to the WrestleMania sign. Lashley then grabs Miz and takes him out with another Hurt Lock. Lashley throws him down and poses with a foot on Miz' chest while holding up the WWE Championship as the show comes to an end.