February 22, 2021
St. Petersburg, Florida (Tropicana Field)
Commentary: Tom Phillips, Byron Saxton, and Samoa Joe
Results by: Mike Tedesco of Wrestleview.com
---
Quick Match Results
Non-Title Match: Riddle defeated John Morrison via Bro Derek
The New Day defeated RETRIBUTION (T-Bar & Mace) via Trouble in Paradise by Kingston on T-Bar
Non-Title Tornado Tag Team Match: The Hurt Business (Shelton Benjamin & Cedric Alexander) defeated Lucha House Party via Pay Dirt by Benjamin on Dorado
Damian Priest defeated Angel Garza via Hit the Lights (fka the Reckoning)
Non-Title Match: Nia Jax & Shayna Baszler defeated Charlotte Flair & Asuka via Leg Drop by Jax on Asuka after Charlotte accidentally booted Asuka
Sheamus defeated Jeff Hardy via Brogue Kick
Naomi & Lana defeated Mandy Rose & Dana Brooke via double team facebuster on Rose
AJ Styles defeated Ricochet via Styles Clash
Bobby Lashley defeated Braun Strowman via spear
---
In-Ring: The Miz, John Morrison, Bobby Lashley, MVP
A video kicks off the show highlighting The Miz cashing in his Money in the Bank contract last night at Elimination Chamber to win the WWE Championship.
John Morrison is in the ring, which is decorated with a red carpet and balloons at all four corners. Morrison introduces the new WWE Champion, The Miz.
WWE Champion The Miz makes his way to the ring looking very happy. Pyrotechnics go off for him as he comes down the ramp. Miz embraces Morrison in the ring as more pyro goes off. Miz welcomes us to the Champion Edition of Miz TV. 16 years ago, he first stepped foot in a WWE ring. The crowd and the people in the locker room thought he'd be fired in 3 months. 16 years later he stands in the ring on the flagship show as the WWE Champion. All the top superstars of his generation have come and gone, yet he's still standing. Batista is doing buddy comedies, John Cena is on Experian commercials, Bobby Lashley, Edge… they don't measure up to his longevity, star power, and tenacious attitude. Speaking of Edge and high stakes poker, Miz did just that. Miz told Drew McIntyre exactly what he was going to do. Everyone thought they knew what would happen on the Road to WrestleMania, but he provided a detour. Miz is a main event talent and his career is like a Jeopardy clue as the only two-time Grand Slam Champion. Miz holds the title because he deserves it. Miz didn't ask for respect – he demanded it.
The Hurt Business' music hits, and Bobby Lashley walks out in a white suit with MVP in tow, using a crutch and wearing a blue suit. MVP congratulates Miz on behalf of the Hurt Business, but he omitted the part about how Lashley wrecked Drew McIntyre, which allowed Miz to cash in his Money in the Bank contract. Miz says he was just getting to that in his speech. They contributed to an incredible night. Miz then dismisses them. MVP says they're not going anywhere because they have to disclose the terms of their deal. Since John Morrison cost Lashley the United States Championship, Lashley is first in line for helping Miz out. Miz says he has a lot of media to do. He has too many stresses. They might not understand, but there isn't time for them right now. MVP says when he was running down a litany of WWE titans, he mentioned Bobby Lashley and how he doesn't measure up. Lashley grabs Miz by his tie and gives him one hour to come to his senses. One way or the other, he'll beat the life out of The Miz and take the WWE Championship. It will be painful, merciless, and… awesome. Lashley lets him go, and his music plays. The Miz looks very uncomfortable.
---
Non-Title Match
Riddle vs. John Morrison
WWE United States Champion Riddle is backstage with the Lucha House Party. Riddle is going to call the title "Travis." Riddle gets on a razor scooter and rides off as Raw heads to commercials.
The bell rings, and Riddle hits a waistlock takeover. Morrison rolls through an arm bar, kicks him, and hits a jumping calf kick. Morrison goes for a standing shooting star press, but Riddle counters into a triangle choke. Morrison quickly gets his foot on the bottom rope. Riddle takes Morrison down, but Morrison stuns him with a kick to the head. Riddle comes back with a slam for a two count. Riddle blocks another kick, but Morrison thumbs him in the eye. Morrison takes Riddle down and gives him an inverted suplex to the apron. Morrison kicks him off the apron. Morrison then hits a corkscrew plancha, but overshoots Riddle and lands hard. Morrison grabs his knee in pain.
Morrison gets Riddle in the ring and charges, but Riddle gives him a hurricanrana over the top rope. They start fighting on the apron with chops and kicks. Riddle then hits Morrison with a fisherman's suplex on the apron!
We come back from the break to see Riddle punching away at Morrison. Riddle goes for a Broton, but Morrison gets the knees up. Morrison hits a modified slam for a two count. Morrison applies a chin lock. Riddle fights up, so Morrison puts him in the corner and punches him. Riddle responds with an over head kick to the head. Riddle hits a pair of running forearms in the corner followed by an exploder. Morrison quickly rolls out of the ring to recover. Riddle goes to the apron and kicks him before hitting a springboard Floating Bro to the floor. Riddle gets him in the ring and hits a bridging German Suplex for a near fall. Riddle goes to the second rope, but Morrison catches him with a scary Spanish Fly for a near fall.
Morrison sets up for Moonlight Drive, but Riddle gets out and hits Bro To Sleep. Morrison quickly responds with a kick. Morrison knees him down and goes for Starship Pain, but Riddle pops up and catches him. Riddle connects with the Bro Derek for the win.
Winner by Pinfall: Riddle
---
Video: Rhea Ripley
A vignette airs hyping that Rhea Ripley is coming soon to WWE Raw.
---
Backstage: Bad Bunny, Damian Priest, R-Truth
Footage is shown of WWE 24/7 Champion Bad Bunny on SNL.
WWE 24/7 Champion Bad Bunny is backstage with Damian Priest. They look over and see R-Truth sneaking around with a referee. R-Truth gets caught, so he hugs the referee and pretends he was just talking to him. Priest warns R-Truth not to mess with them.
---
Backstage: The Miz, Adam Pearce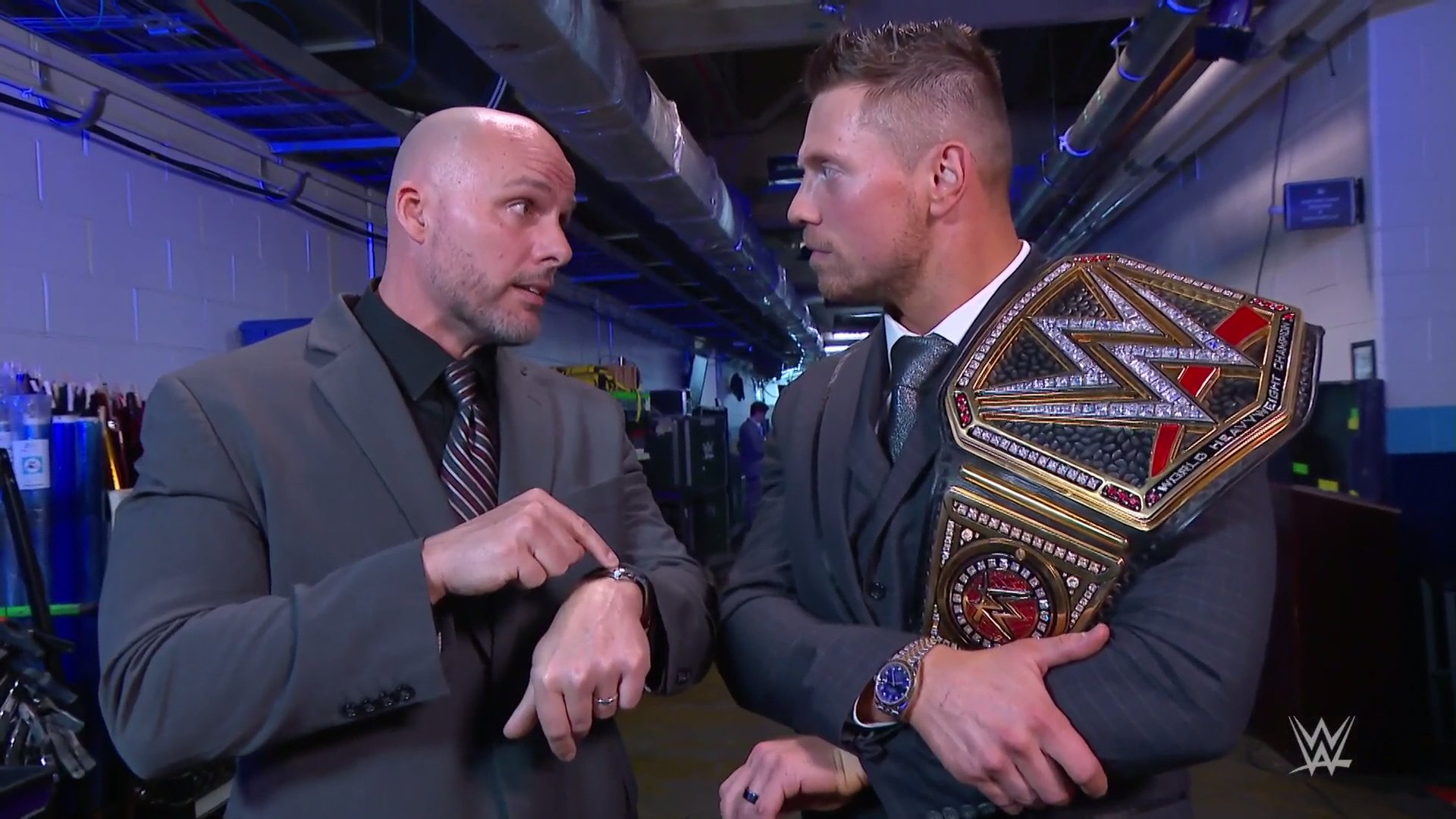 Footage is shown of Bobby Lashley giving WWE Champion Miz an ultimatum to give him a title match and agree to it within the hour. The Miz has 22 minutes left.
WWE Champion The Miz is backstage with WWE Official Adam Pearce. Miz is trying to convince Pearce to not let this happen with Bobby Lashley. Pearce says Miz is the champion and needs to take on all challengers. Pearce says he can make any decision he wants, but it needs to be soon.
---
The New Day vs. RETRIBUTION (T-Bar & Mace)
T-Bar starts against Xavier Woods. T-Bar clubs him down, but Woods quickly fights back. Kofi Kingston tags in and hits a stomp to T-Bar's arm. T-Bar fights up and hits a delayed scoop slam. Mace tags in and slams Kingston's head off the mat a few times before T-Bar hits a big boot. Mace picks up a two count. T-Bar tags in and grabs Kingston by the head. T-Bar hits a backbreaker for a two count. Mace tags in, and T-Bar big boots Woods. T-Bar and Mace hit a double-team chokeslam on Kingston. Mustafa Ali wants them to do it again. T-Bar tags in. They go for a double-team, but Woods pulls the top rope down. Kingston hits Mace with Trouble in Paradise before hitting T-Bar with Trouble in Paradise for the win.
Winners by Pinfall: The New Day
Mustafa Ali shouts about how much longer RETRIBUTION is going to embarrass and fail him. Ali can't deal with this crap.
---
In-Ring: Adam Pearce, Bobby Lashley, MVP, The Miz, Braun Strowman, Shane McMahon
Footage is shown of Bobby Lashley giving The Miz one hour to come to his senses and give him a WWE Championship match.
WWE Official Adam Pearce is in the ring to oversee the ultimatum. Pearce first welcomes Bobby Lashley, who comes out with MVP. Out next is WWE Champion The Miz with John Morrison in tow. Morrison is limping. Lashley does not look happy that Miz is still dressed in a suit.
Pearce mentions that Lashley has issued a WWE Championship challenge to Miz. Miz had time to think about it and now it is time for a decision. The Miz has made a decision… that he needs more time. Lashley threatens him to stop stalling because he's wasting his time, which is wasting his money. Miz says he is not worried about money. Miz is worried about the honor this title deserves. Many superstars are targeting the WWE Championship, like John Morrison. MVP says he doesn't have a deal with other WWE Superstars. Miz says he needs more time and sounds very emotional. Lashley approaches him. Miz says Lashley deserves to be a WWE Championship challenger, but Miz needs to be at his best. Miz wants a week. Adam Pearce can schedule that.
Braun Strowman's music hits, and he makes his way to the ring. Strowman says Pearce and Shane McMahon have a vendetta against him. That's why they kept him out of the Elimination Chamber match last night. The Miz tries to stir the pot, but MVP tells him to knock it off.
Shane McMahon's music hits, and he makes his way to the ring. McMahon tells them to chill out and let cooler heads prevail. Strowman can't demand a WWE Championship match. Also, in case the few remaining neurons in his brain didn't catch that, Strowman isn't a former WWE Champion, which is why he didn't get into Elimination Chamber. Strowman thinks everyone sucks and wants a WWE Championship match tonight. McMahon says that idea sucks. Strowman wants a match against the challenger instead. McMahon says he would love to see that match. It will happen tonight. McMahon is going to up the stakes: if Strowman wins, he'll fight Bobby Lashley and The Miz for the WWE Championship next week in a triple threat match. Miz looks like he's going to be sick. McMahon and Pearce walk off.
Lashley chop blocks Strowman's knee and leaves the ring. Strowman pulls himself up and is furious.
---
Non-Title Tornado Tag Team Match
The Hurt Business (Shelton Benjamin & Cedric Alexander) vs. Lucha House Party
MVP will be on commentary for this match.
The Hurt Business quickly dominates the Lucha House Party. Cedric Alexander hit a nasty dropkick to Lince Dorado's head. Shelton Benjamin gives Gran Metalik a big back body drop. They double-team Metalik for a moment before Dorado gets back in. They double-team Dorado with a Gory Special/dropkick combo for a near fall. Metalik tries to fight back, but he's quickly cut off. Benjamin hits Metalik with a snap suplex. Alexander drops a knee on Metalik before slamming Dorado into the barricade and LED ring apron. Metalik punches away at Benjamin. At the opposite corner, Alexander stomps Dorado down. Benjamin then VICIOUSLY powerbombs Metalik. Alexander covers, but Dorado breaks up the pin. LHP makes a brief comeback, but The Hurt Business quickly takes them out. They hit a wild throw into a knee on Dorado before Benjamin flattens him with Pay Dirt for the win.
Winners by Pinfall: Raw Tag Team Champions The Hurt Business
---
Damian Priest vs. Angel Garza
Priest immediately clotheslines Garza at the sound of the bell for a near fall. Priest punches away at him in the corner before sending him into the ropes for a leaping back elbow for a two count. Garza fights back and clotheslines Priest down before ripping his pants off and throwing them at Bad Bunny. Garza grounds and pounds Priest before dropkicking him. Garza hits a running boot to the head and talks trash to Bad Bunny. Garza continues to attack Priest and stomps on the spine a few times. Garza then applies a modified camel clutch. Priest eventually fights up and bell claps the ears. Priest hits a running back elbow followed by a Broken Arrow for a near fall. Bad Bunny is enjoying himself at ringside. Priest pulls Garza back into the ring as he tries to get out. Garza rocks him with a right hand and tries for the Wing Clipper, but Priest gets out. Garza then hits a stiff clothesline over the top rope.
Garza taunts Bad Bunny, and Bad Bunny challenges him. Bad Bunny starts getting ready to get into the ring, but he points behind Garza. Priest kicks Garza in the head and hits a spin kick off the top rope. Priest follows up with Hit the Lights (formerly Reckoning) for the win.
Winner by Pinfall: Damian Priest
Akira Tozawa, Humberto Carrillo, and Drew Gulak run down for Bad Bunny. Priest takes out Tozawa and Carrillo, and Bad Bunny sends Gulak over the top rope.
---
Backstage: Randy Orton, Alexa Bliss
Footage is shown of Alexa Bliss appearing all over the WWE ThunderDome last week to cost Randy Orton his match in the Gauntlet Match.
Randy Orton says failure isn't something he knows. Orton says if he won the Gauntlet Match last night, he'd have been the last to enter the Elimination Chamber. Instead he was the first one eliminated from the match. Orton always takes care of his distractions and problems. The Fiend was a distraction and a problem, so he set him on fire. Footage is shown of Randy Orton lighting The Fiend on fire. Orton says The Fiend is not coming back. Orton finds himself in limbo and cannot focus on what matters. Why can't he focus on the WWE Championship? Orton coughs and says he is not distracted by The Fiend. Orton is distracted by Alexa Bliss. Footage is shown of Bliss in a pentagram last week on Raw.
Orton starts to choke and throws up a black liquid. Orton runs off.
---
Non-Title Match
Charlotte Flair & Asuka vs. Nia Jax & Shayna Baszler
Asuka starts against Shayna Baszler. Asuka applies a waistlock and goes for an octopus stretch. Baszler counters into a stretch muffler, but Asuka takes her down with an arm bar. Charlotte Flair tags in and wrenches the arm. Asuka and Flair soon clear Jax and Baszler from the ring.
We come back from the break to see Jax and Baszler dominating Asuka. Asuka avoids an arm breaker from Baszler and kicks her in the head. Flair tags in and bounces Baszler off the turnbuckle. Flair stomps away at Baszler before bouncing her off the turnbuckle. Jax tags in and attacks Flair. Jax and Baszler go for a double-team suplex on Flair, but Flair lands on her feet. Flair clotheslines Jax and chops Jax. Jax sends Flair to the corner, but she rolls up the turnbuckle and boots Baszler. Flair knocks Jax back, but Jax soon responds with a big powerbomb for a near fall. Jax applies a chin lock, but Flair gets out with a jawbreaker. Jax clotheslines Flair down and tags Baszler in. Baszler applies a hammerlock, but Flair gets out with a roll-up for a two count. Baszler quickly stops Flair and tags Jax in. Flair quickly rolls Jax into the turnbuckles. Baszler tags in and cuts Flair off. Flair takes Baszler down and applies a Figure Four Leglock, but Jax breaks it up with a leg drop.
Asuka eventually tags in and runs wild. Asuka goes for an Asuka Lock, but Flair, who was aiming for Baszler, big boots Asuka when Baszler moves. Jax tags in and drops a leg for the win.
Winners by Pinfall: Nia Jax and Shayna Baszler
Flair looks down at Asuka as she gets up and walks off on her.
---
Jeff Hardy vs. Sheamus
Sheamus quickly takes Hardy down and viciously beats on him. Sheamus is furious tonight. Hardy soon fights back and stomps him down in the corner. Hardy backs up, but Sheamus soon greets him with a clothesline. Sheamus lifts him up, but Hardy slides off and puts him on the apron. Hardy elbows Sheamus in the head and dropkicks him in the ankles to take him to the floor. Hardy follows up with a baseball slide. Hardy then hits Poetry in Motion against the barricade.
We come back from the break to see Sheamus elbowing Hardy in the ribs and back. Sheamus connects with three Irish Curse Backbreakers for a near fall. Sheamus continues to attack the back before Hardy fights back. Hardy goes for a Twist of Fate. Sheamus gets out, but Hardy flips through a back suplex and sidesteps him to send him shoulder-first into the ring post. Hardy quickly follows up with a Whisper in the Wind that absolutely crushes Sheamus.
Hardy hits an inverted atomic drop, double leg drop to the midsection, low dropkick, and splash for a two count. Hardy boots him down and hits a splash off the second rope for another two count. Hardy goes for a slingshot dropkick, but Sheamus counters with a double boot. Sheamus appears to be bleeding from his ear. Perhaps one of Hardy's buttons clipped him on the Whisper in the Wind before. Hardy jumps over Sheamus and avoids a Brogue Kick. Hardy rolls him up for a two count. Sheamus quickly knees him in the face and hits a Brogue Kick for the win.
Winner by Pinfall: Sheamus
---
Backstage: Charlotte Flair, Ric Flair
Charlotte Flair is backstage with her father, Ric Flair. Charlotte says she can't focus on her career with all this crap going on. Charlotte says she wants to protect their legacy. Nothing is funny. Charlotte is busting her ass. This isn't the performer she is. She begs him to go home. Ric mentions that the baby isn't his. Ric saw a lot of potential in a good human being. Charlotte says he sees a lot of potential in blondes. Ric says he knows she could be a great competitor. Ric thought he could motivate her like he did for Charlotte. She did it on her own, but he likes to think he had a hand in it. Ric wanted to expand the brand. Ric wanted the women to be the biggest part of the market. Ric wants to keep their name a household name. Charlotte doesn't see that his way. On her time, he tried to take the spotlight. Charlotte is crying. On her time, she's trying to prove she's Charlotte Flair and not Ric's daughter. He wants to be the Nature Boy on her time, so he can go home. She's thankful for the doors he opened and everything he's given her, but it's time for her to be Charlotte Flair. She loves him and walks off.
---
Mandy Rose & Dana Brooke vs. Naomi & Lana
Lana and Dana Brooke mistime a bulldog right at the start of the match. Naomi eventually tags in and she and Lana immediately hit a double-team facebuster on Mandy Rose for the win.
Winners by Pinfall: Naomi and Lana
---
AJ Styles vs. Ricochet
AJ Styles makes his entrance with Omos. Ricochet quickly takes Styles down and drops some elbows. Styles quickly kicks out the knee and connects with a suplex into the turnbuckles. Styles takes Ricochet down and covers for a two count. Styles applies a chin lock before whipping him into the ropes and hitting a stiff dropkick. Styles kicks Ricochet and says he doesn't belong in the same ring with him. Ricochet blocks a kick and punches back at Styles. Ricochet punches Styles down in the corner. Styles quickly responds with a throat thrust before hitting a front suplex on the top rope. Styles tries to catch him on the rebound, but misses. Ricochet fights back and rolls him up for a two count. Ricochet hits a German Suplex with a bridge for a two count. Ricochet goes to the top rope for a 630, but Styles moves. Ricochet lands on his feet. Styles kills him with a knee to the face and hits a Styles Clash for the win.
Winner by Pinfall: AJ Styles
Omos gets in the ring and picks up Ricochet by the head with both hands. Omos holds him up before slamming him down on the mat. Omos and Styles stand over Ricochet.
---
Backstage: The Miz, John Morrison, Braun Strowman
The presence of @BraunStrowman.

Enough said.#WWERaw pic.twitter.com/UGYatE7iIE

— WWE Universe (@WWEUniverse) February 23, 2021
WWE Champion The Miz is backstage with John Morrison. Miz is not liking his odds next week. Braun Strowman walks up to them, and they run off.
---
Bobby Lashley vs. Braun Strowman
Before this match begins, WWE Champion The Miz comes out to ringside.
If Braun Strowman wins, he'll be added to the WWE Championship match with The Miz defending against Bobby Lashley next week on Raw.
The bell rings, and they lock up in the ring. They tussle for position before Strowman gives a clean break. Miz joins commentary. Lashley hits an impressive waistlock takedown on Strowman. Strowman quickly grabs a waistlock and takes him down for a two count. Strowman rains down forearms on Lashley before sending him hard into the corner. Strowman viciously elbows him in the head a few times before avalanching him in the corner. Strowman scoops Lashley up and slings him over the top rope to the floor. Strowman gets out of the ring and goes for a running shoulder block, but Lashley leaps up to the apron to avoid him. Strowman runs into the steel steps instead.
Lashley jumps off the steps and clotheslines him on the floor. Lashley gets Strowman in the ring and hits a dropkick to the knee. Lashley follows up with a flatliner for a near fall. Lashley punches away at Strowman and sizes him up. Lashley goes for the Hurt Lock, but Strowman powers out before it's fully applied. Lashley goes for a vertical suplex on Strowman, but Strowman drops to his feet and clotheslines him down. Strowman avalanches him in the corner and hits a Running Powerslam for a near fall! MVP is losing his mind at ringside. Strowman is in disbelief.
Strowman goes for another Running Powerslam, but Lashley slides off and hits a one-armed spinebuster on Strowman! Lashley spears Strowman down and picks up the win!
Winner by Pinfall: Bobby Lashley
Next week's WWE Championship match will remain a singles match. The Miz will defend the WWE Championship against Bobby Lashley.
Lashley chop blocks the knee of Strowman and wipes him out with a Hurt Lock. Lashley throws Strowman down and stands tall. The Miz goes to blindside Lashley with the WWE Championship, but Lashley counters into a one-armed spinebuster. Lashley follows up with a spear on the WWE Champion. Lashley stands tall in the ring with MVP as the show comes to an end.